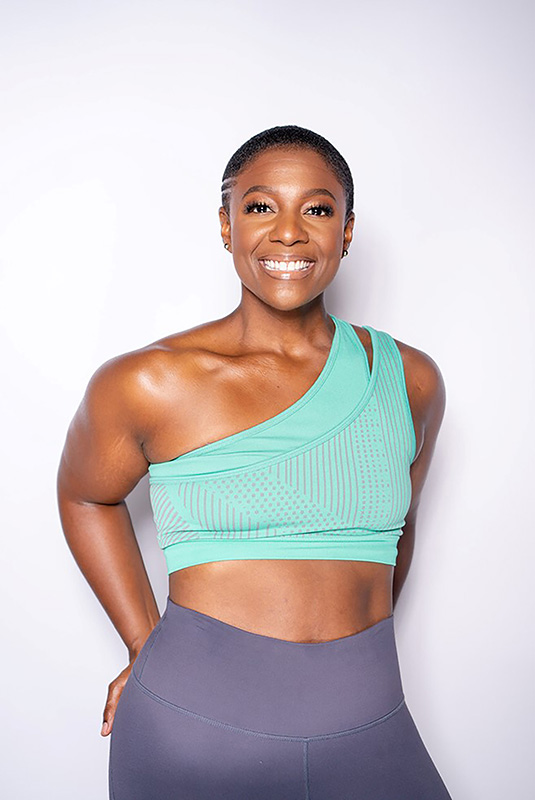 Tasha Turnbull is an Author, Fitness and Wellness Expert, Fitness Studio Owner, Certified Personal Trainer, Fitness Nutrition Specialist, Group Fitness Instructor, Motivational Speaker, and executive director of the T2 Fitness Foundation.
Tasha started as a personal trainer in 2009 and opened T2 Fitness Studios in 2011 in Virginia Beach, Va after she realized her calling of impacting lives through her own personal testimony – successfully losing 100 pounds on her own. Since 2009, T2 Fitness has been the motivation behind over 10,000 men and women in Hampton Roads making health and fitness a priority in their own lives via their virtual and in-person personal training, fitness bootcamps, motivational speaking talks across the country, and the annual fitness events the T2 Fitness Foundation puts on in the Coastal Virginia area of the state.
To date, Tasha has been featured on several weight loss blogs, local and national radio and television news segments, national fitness social media campaigns, and fitness-related news publications including Adidas, Reebok, Sister Circle TV, Shape Magazine, Good Morning Washington, Black Girls Run, Fabletics, Atkins, The American Council on Exercise, Fox Baltimore, Fox 5 DC, and BlackDoctor.Org, etc. In 2018, Tasha received the Women In Business Achievement Award from Inside Business. Tasha was featured in 2019 as a Women To Watch in STRONG Fitness Magazine's website and inside their print magazine's April/May 2019 Is- sue.
Tasha authored the book The Last 10lbs: How the Last 10 Helped Me To Lose 100lbs in 2018 and is an extension of her commitment to find unique and effective ways to motivate people to reach their fitness goals and live their healthiest life possible, despite leading a busy lifestyle. Tasha went on tour with Black Girls Run's in 2018 on a 10-city tour stop across the country to promote her book The Last 10lbs: How The Last 10 Helped Me To Lose 100lbs. In June 2019, she received an Author of The Year Award for The Last 10lbs, from the Indie Author Legacy Awards Gala.
In 2021, Tasha's nonprofit organization, the T2 Fitness Foundation, created The T2 Fresh Start Initiative to address the multifaceted challenges surrounding African American women's ability to improve their health. With the help of fitness trainers, life coaches, mental health therapists, chefs, nurse practitioners and a multitude of community partners, the T2 Fresh Start Initiative's comprehensive wellness program serves to improve the health of African American women in Hampton Roads and Western Tidewater who have heart disease, hypertension, and diabetes, with programming taking place in Norfolk, Va, Suffolk, Va, Franklin, Va, and Petersburg, Va.